In Celebration of Black History Month 2023
and the 200th Anniversary of St. Louis #2 Cemetery
& Warren A. Bell, Jr. present
Buried History:
A Journey of Discovery in St. Louis #2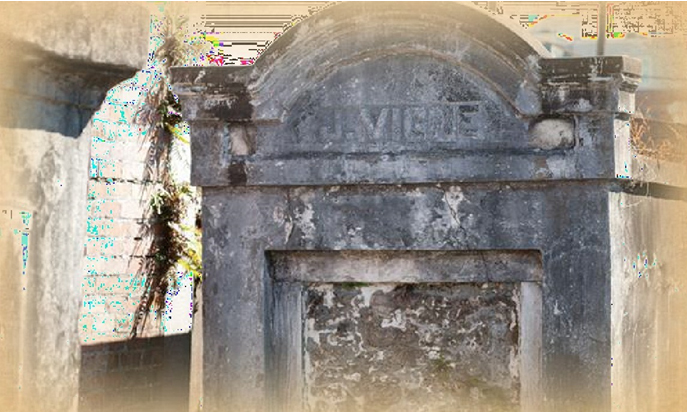 This is about a journey of discovery that begins after a retired journalist takes ownership of a neglected 105-year-old family tomb at St. Louis #2 Cemetery, one of New Orleans' most historically significant – but neglected –burial sites.
Veteran broadcast news anchor Warren A. Bell, Jr had not personally visited the tomb since 1985 when his paternal grandmother was buried there.
He soon learned that his great-grandfather Jean Vigne, for whom the tomb was built, was one of New Orleans' original trap set drummers at the beginning of the 20th Century.  Furthermore he learned that Vigne was the youngest son and namesake of a French immigrant coal merchant and a slave woman named Agathe who bore him 5 children during a long relationship, but then outlived him by 48 years after he freed her and their offspring on his death bed in 1864.  That former enslaved woman, trained in culinary arts as a girl, operated her own downtown lunch counter besides keeping the family coal yard operating with her sons. Their offspring were among NOLA's early Black "movers and shakers" whose careers included the arts, commerce, and education. Her oldest son Leon was a successful butcher whose newspaper ads offered "the best quality of beef, pork mutton and vegetables…" at his Magazine Market stalls just off St. Andrew Street.  Leon's daughter Leontine was the first Principal hired for the Colored Waifs Home, where her early pupils included a young man named Louis Armstrong.  Agathe's youngest son Jean (Bell's great grandfather) continued the family coal yard business but was a parade bass drummer who became one of New Orleans original trap-set drummers. They belonged to a little-known but influential Free Black Brotherhood called the Economy Society, established 14 years before the Civil War, but impacting NOLA Black history for the next 100 years.
As Bell uncovered more "Buried Memories" he determined to share his story.  Not only as a way to encourage other families to rediscover their own family histories buried and forgotten inside that nearly 200 year old cemetery, but also to share resources that descendants can avail themselves of to do so – and whenever possible, to reclaim rightful ownership of their own historic and valuable family tombs and whenever possible to restore them.
In doing so, we explore themes of race relations and Black activism in pre- and post-Civil War Louisiana, the recently-discovered widespread influence of the Economy Society, the impact of the Plessy v. Ferguson decision, the birth of Jazz music and more.
Production for Buried History: A Journey of Discovery in St. Louis #2 began in March 2022 and brochures will be available soon. Underwriting opportunities are available at several levels. For more information or to support the creation of this film, email  Jim Dotson.