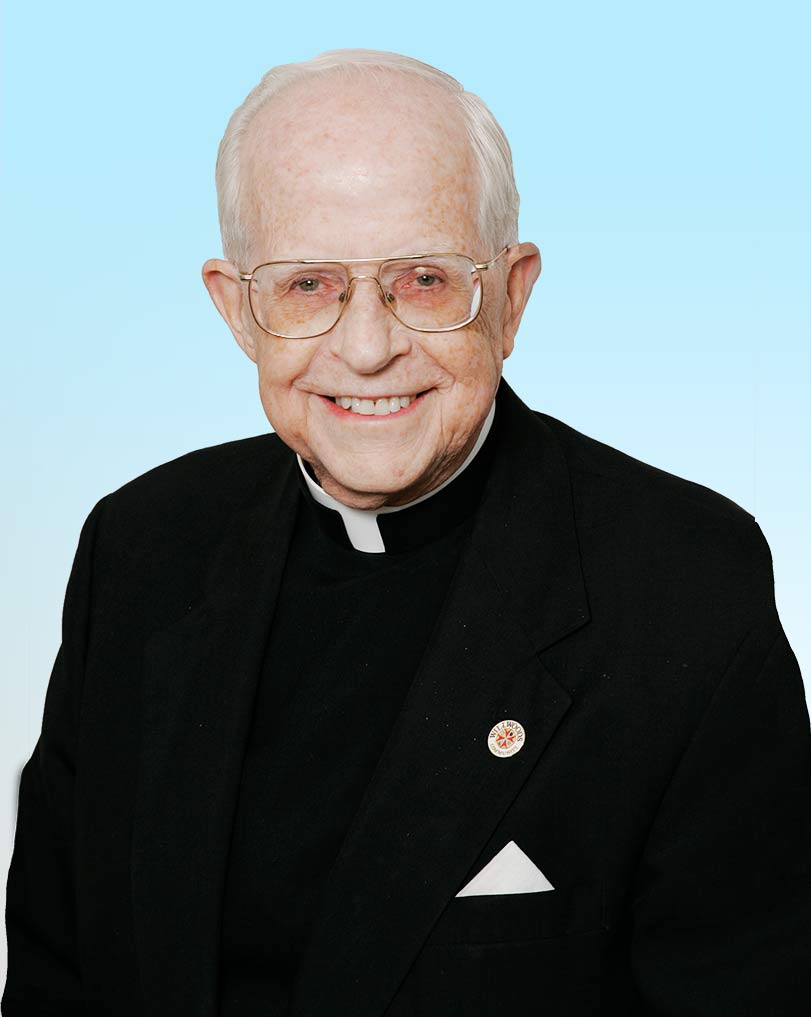 Father Thomas E. Chambers, C.S.C., Ph.D
1934-2018
The entire Willwoods Community and  WLAE-TV  mourn the loss of our former president, Father Thomas E. Chambers, C.S.C., Ph.D.  Eternal Rest grant unto him O Lord and let perpetual light shine upon him. May he rest in peace. Amen. May his soul and the souls of all the faithful departed, through the mercy of God, rest in peace. Amen.
The Reverend Thomas E. Chambers, C.S.C., 83 died peacefully on January 2, 2018 at Notre Dame, IN. Fr. Tom was a Member of the Congregation of Holy Cross for 56 years.
Beloved son of J. Clyde and Mary Chambers, ( Malone.) Cherished brother of Clyde, (Virginia, deceased,) Dr. James, (deceased,) and John (deceased,) (Helene.)
Loving uncle to 15 nieces and nephews; great uncle to 34.
Fr. Tom was an educator at the University Of Notre Dame and served as Vice President for Student Affairs. Prior to his appointment in New Orleans, he was Vice-President for Academic Affairs at Ursuline College of Cleveland, Ohio for 11 years. Fr. Tom became President of Our Lady Of Holy Cross College in 1987, the school of just 615 students was more than $1 million in debt at that time. When he retired in 2003, the institution had a $9 million endowment and enrollment near 1,400. That same year, Fr. Tom became President of Willwoods Community and WLAE-TV. During his tenure here, both Willwoods and WLAE expanded their respective missions far beyond their original intentions. Fr. Tom's leadership was most heavily relied upon in the aftermath of Hurricane Katrina as he led the charge for recovery of both Willwoods and WLAE in 2005. Today, Willwoods provides affordable housing for 1,000 residents throughout metro New Orleans. Willwoods also provides married couples retreats and, through it's website, TheDailyMass.com, the Mass from St. Louis Cathedral is seen around the world. WLAE is an award winning public television broadcaster serving metro New Orleans.
In addition to serving on many boards throughout New Orleans, Fr. Tom was also the Founder of the International Student Leadership Institute.
Fr. Tom's kind heart and leadership touched the lives of so many.
A wake and memorial service will be held on the campus of the University of Notre Dame at Moreau Seminary on Thursday January 11, 2018 at 7:30 PM. The Mass of Christian Burial will be celebrated on January 12, 2018 at 9:30am in the Basilica of the Sacred Heart on the campus of the University of Notre Dame. A memorial mass will also take place in New Orleans at St. Stephens Catholic Church on Friday, January 12, 2018 at 11:00am.
"Fr. Tom lived a wonderful life and as priest found great joy in serving God and others. We are all much better people for knowing him, working along-side him as president of Willwoods and WLAE and having him as our friend… "Well done, thou good and faithful servant'".
Ron Yager
Chief Operating Officer – The Willwoods Community
Vice President and General Manager – WLAE-TV
In lieu of flowers, donations may be made to the Willwoods Community, 3900 Howard Ave. NOLA 70125