A Legacy of Love: Henriette Delille and The Sisters of the Holy Family
A WLAE Original Documentary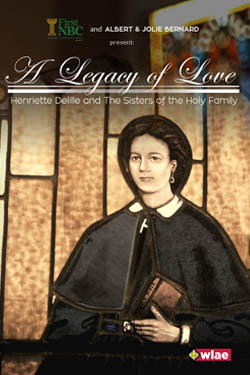 Nearly 175 years ago in New Orleans…years before the civil war…
three young free women of color stood up. Not for freedom…not for prosperity…not for themselves.
They stood up to kneel down…to serve at the feet of Jesus. They just wanted to be nuns.
These women were not poor…they lived in relative comfort in a society that would give them status as mistresses of wealthy white men. But they knew God wanted something different for them…calling them to give up the comforts of life to comfort those in need.
Against the customs of the time, and the laws that created racial boundaries …sometimes even against the wishes of the church…they formed a tiny congregation of sisters.
Not even permitted to wear a habit, these women stepped into a life of poverty and humility taking care of and educating those society had cast aside. Often starving, sometimes homeless, they saw their own suffering as a blessing.
This is the story of how a young woman named Henriette Delille and two friends gave their lives to God and began a work that has survived the ravages of racism and war and time. It's the story of all the women who followed and the lives forever changed because of them.
This is the story of the Sisters of the Holy Family.
WLAE-TV (New Orleans Public Television) in partnership with the Archdiocese of New Orleans produced the 2017 Gabriel Award-winning documentary film, A Legacy of Love: Henriette Delille and the Sisters of the Holy Family. This film is shown on public television in New Orleans and across the state of Louisiana. The documentary also became part of the Archdiocesan exhibition at the Old Ursuline Convent Museum.