Retreat: The Legacy of Spiritual Reflection in South Louisiana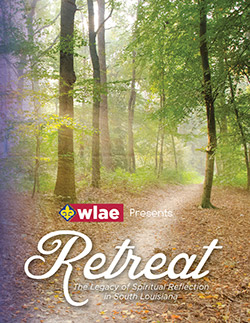 Spiritual Retreats are an integral part of finding God and incorporating Him into your everyday life. WLAE-TV, in conjunction with the Archdiocese of New Orleans and The Dioceses of Baton Rouge and Lafayette, is producing a one-hour documentary that highlights the history of the Retreat and its effects on the lives and the culture of South Louisiana. By showcasing the essence of retreats at Grand Coteau, Manresa and the Archdiocese of New Orleans Retreat Center, our Emmy award-winning team will
capture the heart of the retreat experience.
Set to debut in 2017, WLAE-TV (New Orleans Public Television) will call on the Emmy Award-
winning talents of Stan Gelpi, a New Orleans based producer with over 1,000 production credits to his name. Besides being a noted television producer/director, Stan has attended over 20 retreats at Manresala House of Retreats.
Also heading up the production team as executive producers are Ron Yager and Jim Dotson. Together this duo has launched numerous award-winning documentaries including Fats Domino – Walkin' Back to New Orleans, Glory Days: The Catholic League of New Orleans, The Story of Covington – A 200-Year Journey, A Legacy of Love: Henriette Delille and the Sisters of the Holy Family and A Tribute to Toussaint, for which they won an Emmy Award. In addition to these notable projects, Ron and Jim recently won the coveted Gabriel Award for Ordinary People, Extraordinary Gifts: The Road to Sainthood.